Mares Abyss 22 Navy Regulator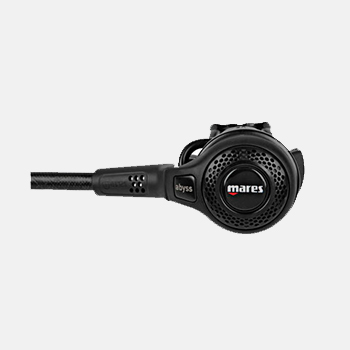 The new Abyss 22 Navy is the Mares answer for your challenge in
every condition. With careful analysis and evaluation of what happens
in cold water, Mares has designed an exclusive product accurately
studied to guarantee top performance and reliability under the toughest
conditions, including diving under the ice.
First Stage Features:
CWD Kit for Extreme Temperature
High Performance in Cold Water
Balanced Diaphragm First Stage
Tri-Material Valve Technology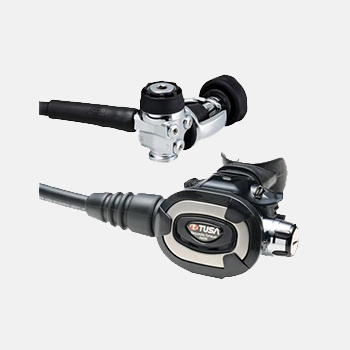 The RS-680 is TUSA's latest regulator that delivers superior performance and build quality in a compact lightweight design.  The R-600 paired with the newly developed S-80 second stage further pushes the regulator engineering and performance envelope.
The ultra-compact balanced diaphragm R-600 first stage is incredibly small and weighs only 630g. The R-600 is configured with 2 HP and 4 LP ports allowing for versatile hose placement.  A DIN conversion kit (DIN-R600) and an environmental kit (EK-600) is also available.
The newly designed S-80 second stage offers the following features:
S.E.A. – Sequential Exhaust Assist The Sequential Exhaust Assist (S.E.A.) is a revolutionary new second stage design featuring a dual exhaust system. The S.E.A. system consists of an enlarged primary and an auxiliary exhaust. The auxiliary exhaust, located on top of the S-80 elliptical case, works in union with the primary to significantly decrease exhalation resistance.
Exhalation resistance directly affects the diver's natural breathing cycle. By reducing this resistance or increasing exhalation performance, the diver breathes more naturally and comfortably reducing respiration rate and air consumption. Paired with the R-600 first stage, the S-80 offers a seemingly effortless underwater experience regardless of the workload. Venturi Adjustment The addition of a venturi adjustment lever on the S-80 allows the regulator to power assist the diver when underwater utilizing the natural venturi effect. The diver can also adjust the lever to prevent free flow such as on a surface swim.
Moisture Exchange Plate The S-80 second stage incorporates a moisture exchange plate that captures condensation produced by inhalation and exhalation efforts. This condensation increases the humidity of the air breathed and helps to reduce that "dry mouth" sensation often experienced while diving.
Breathing Resistance Adjustment Control The Breathing Resistance Adjustment Control on the S-80 allows the diver to simply adjust the flow of air according to their needs. The easy-adjust multiple click knob allows you to quickly and finely tune resistance.
Eligible for TUSA CARE Free Parts for Life Program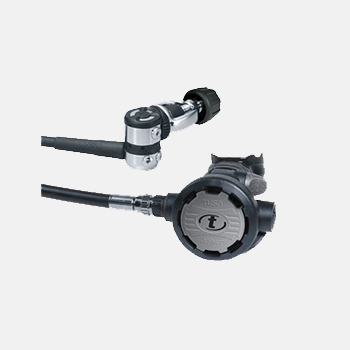 The balanced piston R-800 first stage is compact and lightweight.  It has a full complement of four low-pressure and two high-pressure ports and is fine- tuned for optimum performance.
The S-60 second stage features a diver adjustable sensitivity control to deliver air smoothly with each breath.  The surface position decreases the likelihood of a free flow and also is recommended for cold water diving.  In the dive position the control allows the regulator to power assist the diver as they breathe using the venturi effect.  The S-60 is also equipped with an ortho-consciously designed mouthpiece to increase comfort and reduce jaw fatigue.
The RS-860 is available in both INT (yoke) and DIN versions.
Eligible for TUSA CARE Free Parts for Life Program.
Tusa RS460 Mk II Regulator
The R-400 First stage features a balanced diaphragm system and upgraded HP poppet assembly for enhanced reliability. This balanced diaphragm system maintains minimum variation in intermediate pressure in relation to changes in residual tank pressure. The first stage features two high flow low-pressure ports to optimize second stage performance for easier breathing.
The S-60 second stage features a diver adjustable sensitivity control to deliver air smoothly with each breath. The exhaust valve features a large and flexible design for extremely low exhaust resistance.
Scubapro Mk25/S600 Titanium Regulator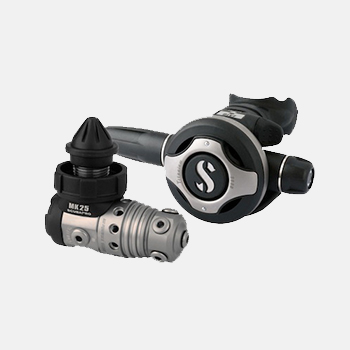 Scubapro has been the leader in the evolution of piston controlled first stages since its beginning; the MK25 carries on this heritage with an array of patented features ensuring unfailing performance. The MK25 is a balanced piston first stage and considered one of Scubapro's top performers. Machined titanium body and components for the MK25T, from a solid block of titanium and titanium trim ring and plate for the S600T.
It is a superior regulator thanks to its ultra stable intermediate pressure resulting in an extremely punctual and constantly high delivery of air. This means instant airflow at any tank pressure and water temperature for a real carefree dive. This Titanium version means same quality and performance but in an ultra sophisticated and lightweight package.
Scubapro Mk25/S600 Regulator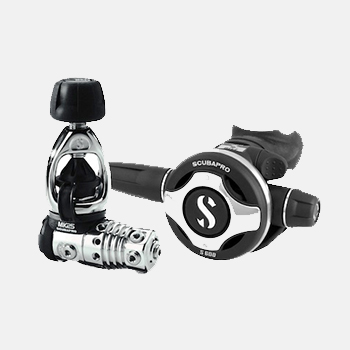 Newly restyled, Scubapro's best-selling S600 is continuously evolving and is in its 5th edition. Timeless design and chrome plated marine grade brass make this high performing system a classic.
With a top performing balanced piston first stage paired with our high performance air balanced second stage; this combination is Scubapro's most popular regulator combination. The S600 truly matches the  MK25's characteristics and thanks to its adjustment possibilities, it adapts to all diving conditions and all diver preferences. Ease of breathing is the essence of this system.
Scubapro Mk25/A700 Regulator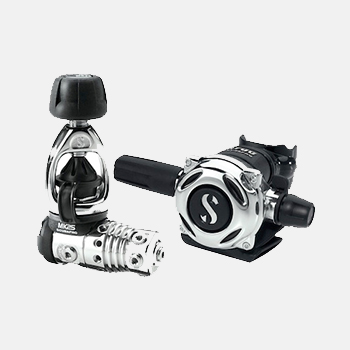 The MK25 teamed with the exceptional new A700, offers superior ultra-high airflow system for maximum performance in all temperatures and diving conditions.
SCUBAPRO is synonymous with piston-controlled first stages. The MK25 underscores this heritage with an array of patented features and ultra-stable intermediate pressure, for an extremely punctual and consistent high delivery of air.
Scubapro Mk25/G260 Regulator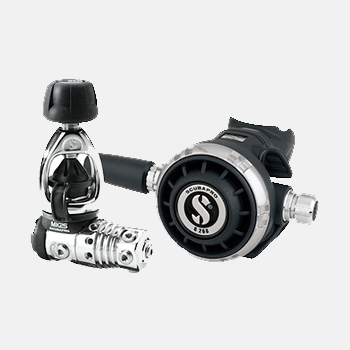 Aimed at technical divers, this system can face any dive situation with rock-solid performances and outstanding reliability.
The G260 is a new balanced adjustable second stage featuring metal components for excellent cold water resistance (inlet tube, orifice, inhalation control knob and hose connector). It's high performance makes it a choice for all demanding divers and it will be  the natural choice for G250 fans. The new left-right hose attachment option makes it ideally suited for tech diving configurations.
Scubapro Mk21/S560 Regulator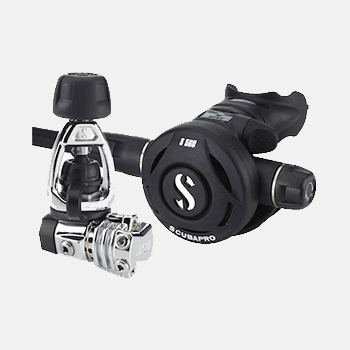 More than an excellent mid-range system. This combination offers high performance, reliable Scubapro technology and great value.
A new compact, balanced piston-controlled first stage with exceptional Scubapro breathing performance at a mid-range price. The high airflow delivery to the second stage ensures unaffected breathing effort, no matter the tank pressure or depth. Very good resistance to freezing for a compact first stage, due to the external fins which optimize thermal exchange.
A lightweight, techno-polymer barrel second stage, the S560 is air balanced with diver adjustable inhalation effort and VIVA. Ensures effortless and smooth breathing in all conditions.
Scubapro Mk17/A700 Regulator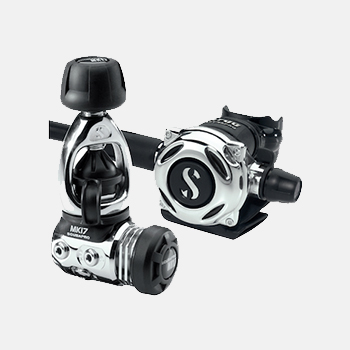 Cold water divers or those frequenting harsh environments will appreciate this perfectly matched pair. The A700 is a complete complement to the MK17, a high performing balanced diaphragm first stage engineered exactly for such conditions.
Scubapro Mk11/R095 Regulator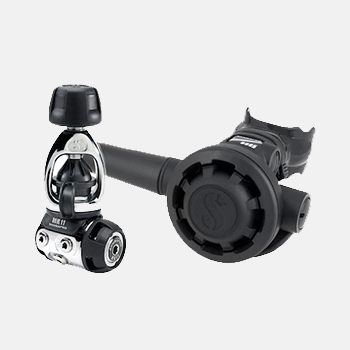 The R095 is a second stage featuring classic downstream valve technology, well known for safety and reliability. Pre-tuned for safe and uncomplicated use, a certain inhalation effort is always required to open the valve.