Scubapro Everflex 7/5mm & 5/4mm Wetsuit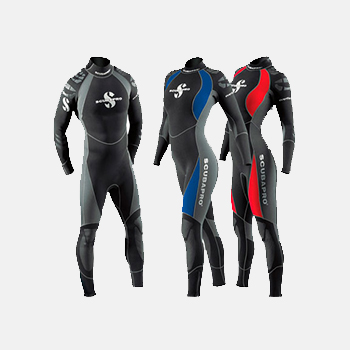 Men and womens styles available.
Gives you even better fit and freedom!
100% EverFlex neoprene with multi-thickness panels for superior warmth and flexibility
Interior chest and back panels in absorbent Heliospan material. Soaks up and holds water, providing extra insulation and warmth
Double-blind stitched outer seams and single-blind stitched inner seams mean virtually water-tight seams overall, for extra durability and comfort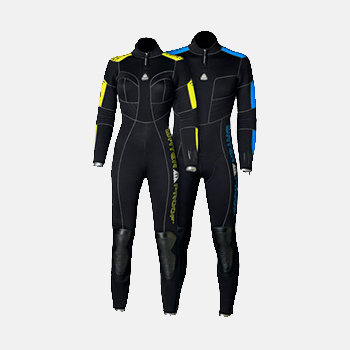 Backzip wetsuit from Waterproof.
Anatomical gender specific design
Available in male and female, 5mm and 7mm
Comfort front neck zipper
Inner plush lining
Moulded rubber kneepad featuring a hinge effect
Mares Flexa 5.4.3 Wetsuits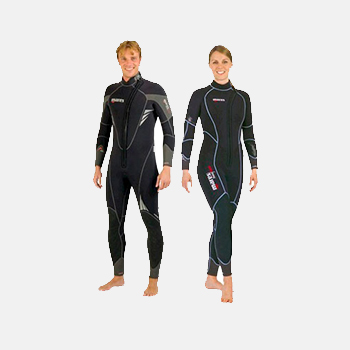 100% ultrastretch for unparalled comfort
Different thickness for different areas of the body
Back protection system (BPS)
Thermo plush inside
Front zip with smooth neoprene flap for more comfort and isolation
Waterproof W1 5mm / 7mm Wetsuit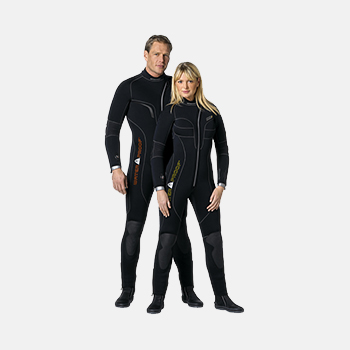 A top quality front-zip suit available in 5mm or 7mm for both men and women.
With its first appearance on the international stage, this technically advanced suit was awarded one of the most prestigious design awards in the world, the Red Dot Design Award. It seems the W1 with unsurpassed quality, unique functionality and ergonomic design, left no hesitation in the minds of the judges.
Waterproof W4 5mm / 7mm Wetsuit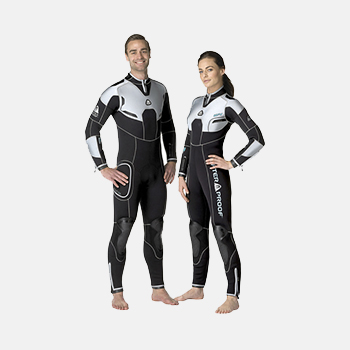 Available in 5mm or 7mm for men and women, the Waterproof W4 is an awesome wetsuit for those who feel the cold.
Double smooth-skin seals at arms and legs, adjustable neck and a 10mm spinepad with an extra seal at the backzipper keeps the cold water out.
All zippers in top class Vislon no10 from YKK. The back zipper Bronze slider ensures trouble-free function for many years.
ToughTex panels at elbows and knees, Bonded HiQ Nylon Thread and 100% CR Neoprene in all panels. Quality is in the details.
The W4 also features double computer strap anchors with anti slip, comfort front neck zipper, inner plush lining, seat and shoulder antislip reinforcement.
Mares Pioneer 5mm Wetsuit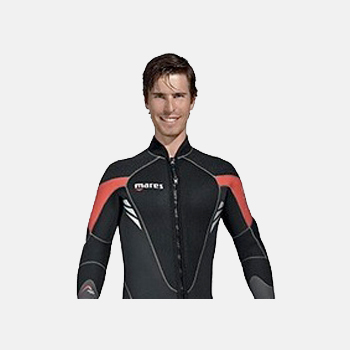 The Mares Pioneer 5 Wetsuit is an "off road" diving suit. Knee and shoulder areas are protected with a special high resistant soft rubber. Extra long frontal zip makes getting in and out of the suit easier than ever. Wrists and ankles are finished with a GlideSkin surface for better sealing.
Adrenalin 7/5mm & 5/4mm Ballistic Super Stretch Wetsuit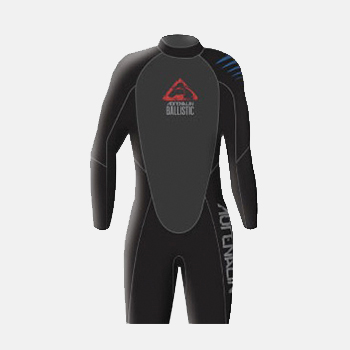 With a smooth skin chest panel to reduce wind chill and heat loss, the Adrenalin Ballistic Wetsuit will keep you warm in the winter. The "Batwing" dam provides an additional seal around the zip area, guarding against water leakage in through the zipper and the mix of hard-wearing nylon and super flexible neoprene panels delivers great durability and comfort.